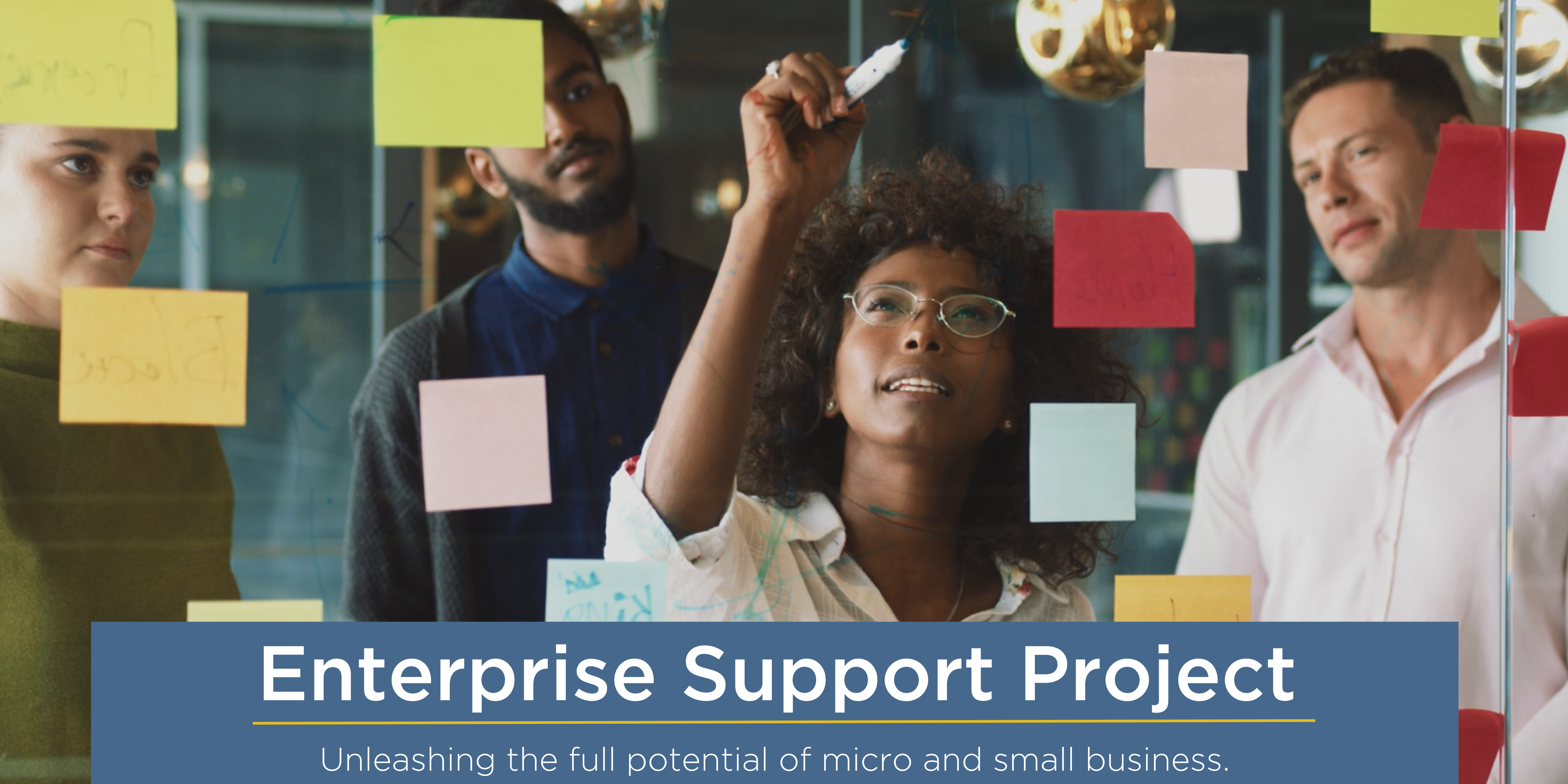 Small businesses are the bedrock of Sint Maarten's economy. They are a major source of job creation and help encourage innovation; they also provide many of the products and services in our daily lives and contribute to the social cohesion of our island communities.
However, access to finance is a longstanding challenge to small businesses creation and growth, particularly those run by women and young entrepreneurs. Moreover, this sector has been hit the hardest by the devastation of Hurricanes Irma and Maria and the COVID-19 pandemic.
Given the importance of small businesses, the NRPB, as an implementing agency of the Trust Fund, launched the Enterprise Support  Project (ESP). This project aims to strengthen their recovery and increase the resilience of businesses in Sint Maarten. This involves cooperation with financial institutions, such as commercial banks and social lenders, that offer loans and grants to assist small businesses and enhance their services.
The project will be prioritizing new, micro and small businesses in need of financial assistance due to reduced funds available. The micro and small business category is defined based on the SME Policy Framework of the Ministry of TEATT.
Read more about the project guidelines here.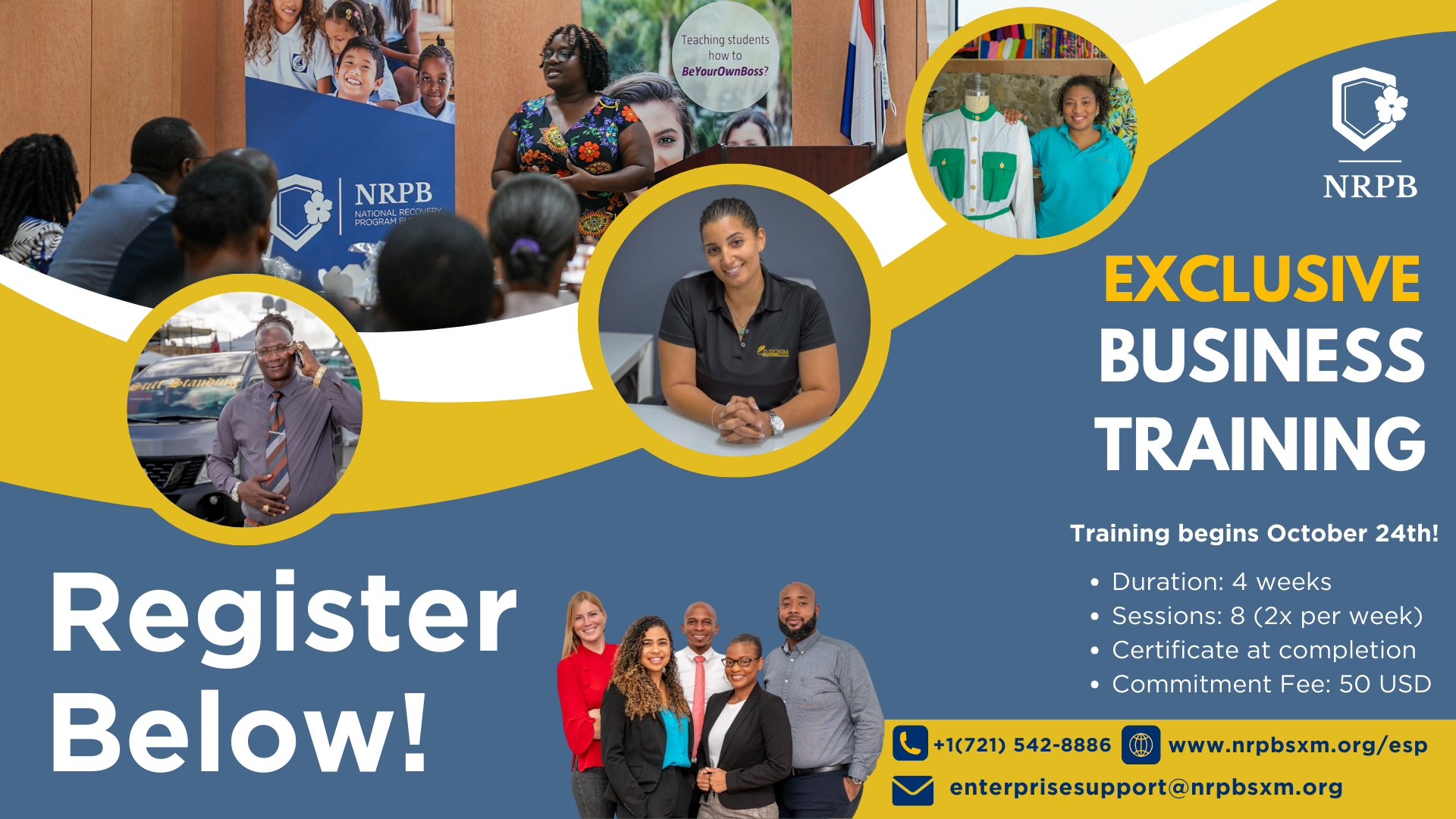 How do we support small businesses?
New MSME
New MSMEs may be eligible for a maximum 75 percent grant and minimum 25 percent loan if they meet the two criteria:
Complete the ESP training, Small Business Academy by Qredits, or any other ESP-supported training.
Receive assistance from a financial advisor or accountant.
This is unavailable for enterprises with shareholders or managers of multiple registered enterprises on Sint Maarten. This is only applicable for one package at a maximum of $85,000.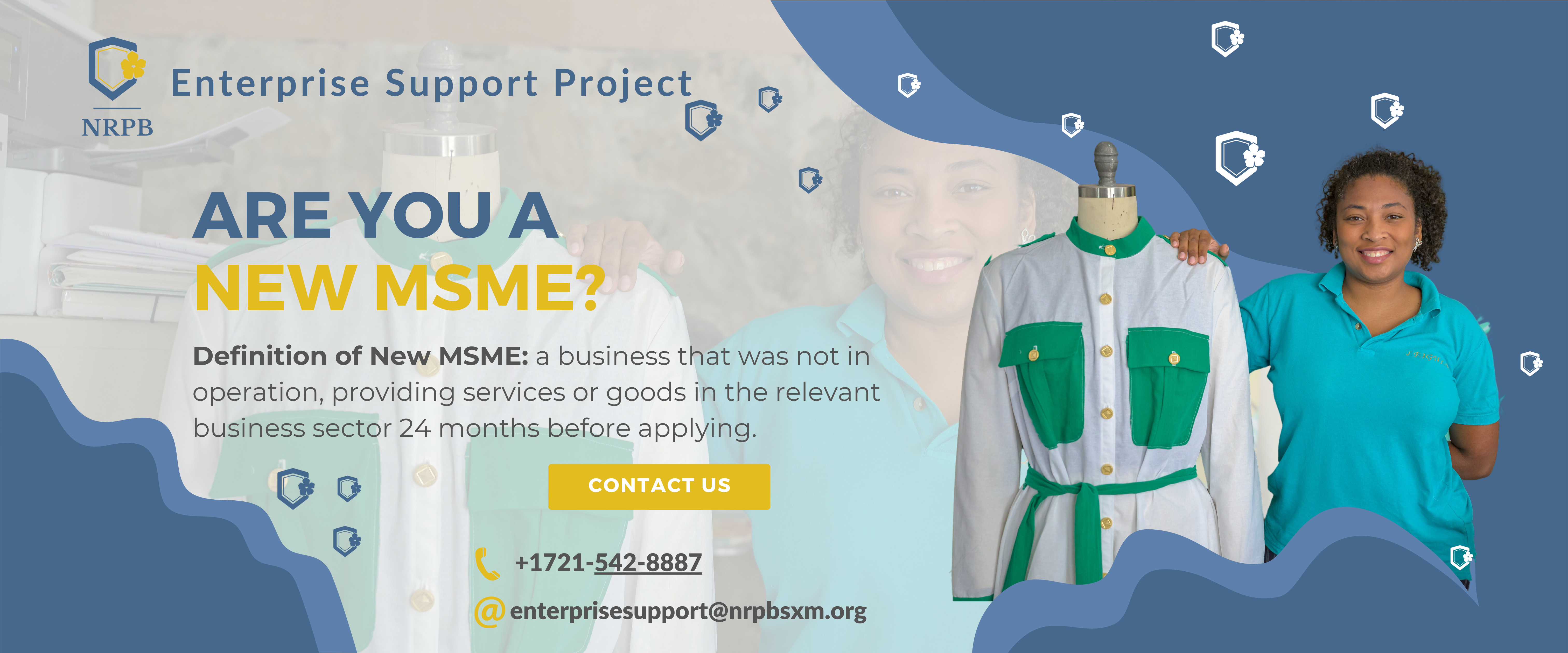 Micro Business
Eligible enterprises can combine the two packages. However, the total application cannot exceed $150,000 for existing businesses and $85,000 for new businesses. Businesses cannot exceed $65,000 in grants.
Conflict of Interest
Eligible businesses cannot have a conflict of interest in their main business or revenue stream (e.g. in regards to their ownership or management). See POM for more information.
Connected Businesses
Connected enterprises cannot receive more than two packages of $150,000, totaling $300,000. Connected enterprises are separate businesses that have a common owner who has more than 25% ownership in each of the enterprises.
Connected MSMEs who are also related as defined as MSMEs who meet the following criteria will be excluded from funding:
Operate on the same physical site.
Whose works or services are dependent on one another.
Whose principals are connected?
Application process
1

Review the eligibility criteria

The Eligibility Criteria:
For-profit enterprises with a maximum average monthly revenue of Naf. 100,000 (≈ US$55,866)
Registered with the Tax administration and up to date at the Chamber of Commerce and Industry
Compliant with Sint Maarten's environmental policy and the World Bank's social and environmental requirements
The owners and managing directors must be in good standing.All applicants will be required to provide a Certificate of Good Conduct (Verklaring Omtrent Gedrag – VOG) from the Public Prosecutor's Office.
Operated within an eligible sector.Ineligible sectors include, e.g. land purchase, weapons, and gambling. The ESP also does not finance bulldozers, excavators, front loaders and luxury items.
The full list of excluded activities is part of the supplemental application form as published here. 
2

Fill out the supplemental application form
3

Prepare the required documents for your business
4

Send all required documents to enterprisesupport@nrpbsxm.org for pre-screening

During the pre-screening process, the ESP Team may reach out with questions. Once the prescreening is complete, you will be notified of your status. Please contact the Enterprise Support Project team via enterprisesupport@nrpbsxm.org
5

Your application will be pre-screened

During the pre-screening phase the application will be checked for eligibility and viability. Once your application has been pre-screened, your preferred financial institution will start the credit assessment — please be available and in contact with the financial institution in case they require additional information.
6

The NRPB will finalise the approval process

Once your application has been approved, you will receive a Beneficiary Agreement from the NRPB and a Credit Agreement from your preferred financial institution. Applicants are not required to pay any additional charges for services other than those set forth in the Credit Agreement and fees due to an accountant/financial advisor (if applicable).

If you have any questions, please contact the Enterprise Support Project team via enterprisesupport@nrpbsxm.org
Watch the video to learn more!
Whatever business phase you are in, from startup to mature, our partners can assist you in providing financing for your investment needs. From beauty salons to construction companies, you can get in touch with the bank of your choice.