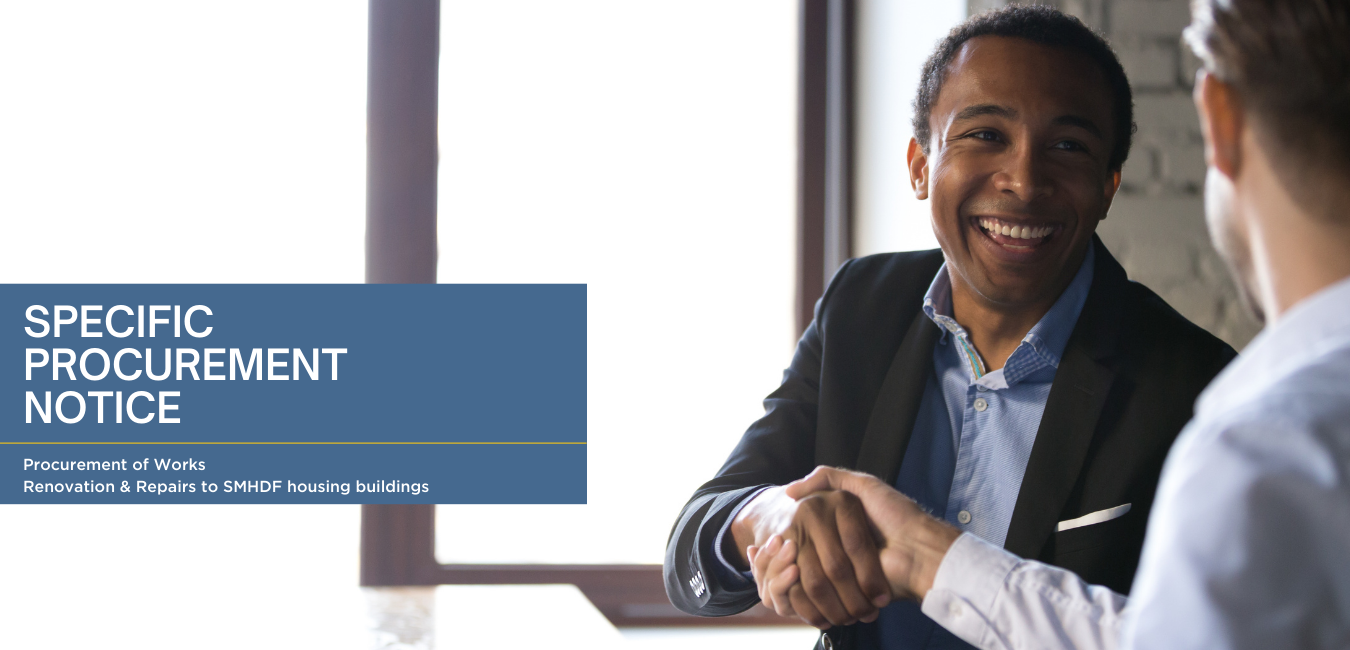 Procurement of Works – Renovation & Repairs to SMHDF housing buildings
Sint Maarten
Emergency Recovery Project I (ERP I)
Grant No.: TF0A8079
Contract Title: Renovation and Repairs to the St. Maarten's Housing Development Foundation (SMHDF) housing buildings.
Reference No. SX-NRPB-202300-CW-RFB
The Government of Sint Maarten has received financing from the World Bank toward the cost of the Sint Maarten Emergency Recovery Project I (ERP I) and intends to apply part of the proceeds toward payments under the contract for the Renovation and Repairs to the SXM SMHDF housing building.
The National Recovery Program Bureau  (NRPB) now invites sealed bids from selected bidders for repairs and/or replacement of roofs, windows, doors, shutters, etc. as described in the Bills of Quantities in the Tender documents. The works are done at one (1) location, six (6) buildings identified in the tender documents. Works are to be completed within 11 months from contract award with a one hundred and eighty (180) days months defects liability period.
Bidding will be conducted through the International Open Competitive Bidding procedures as specified in the World Bank's Guidelines: Procurement of Goods, Works and Non-Consulting Services under IBRD Loans and IDA Credits & Grants by World Bank Borrowers "Procurement Regulations for IPF Borrowers" July 2017  ("Procurement Guidelines"), and is open to all eligible bidders as defined in the Procurement Guidelines.
The Request for Bids in English may be obtained at no charge by interested Bidders upon registration on the NRPB dedicated website https://nrpbsxm.org/tenders/ where this Specific Procurement Notice (SPN) is published; assistance may be requested at procurement@nrpbsxm.org.
Interested eligible bidders may register to view/download the bidding documents at the NRPB website: https://forms.office.com/Pages/ResponsePage.aspx?id=NiEIEbnYxUKO4LrO0sKj-yh7LIb-pypCvDnjKUoIbTtUOVg0MTFISTFHSDkwSDRRN1lOUExRNDBYTC4u
Bids must be delivered by email as instructed on Letter of Invitation to the address below on or before 24 May 2021 at 10:00 AST. Late bids will be rejected. Bids will be publicly opened by Video Conference in the presence of the bidders' designated representatives at the address below on 24 May 2021 at 11:00 AST.
A site visit will be held for eligible bidders on Friday 23 April 2021 at 08:00 am AST starting from the address below and followed by a Pre-Bid meeting on Friday 23 April 2021 at 14:00 AST.
All bids must be accompanied by a "Bid-Securing Declaration" in the form provided in this RFB.
Within five (5) working days of accessing the bidding documents please advise, via email to procurement@nrpbsxm.org citing the contract number and title to confirm:
if you intend to submit a bid, or
that you will not submit a bid.
The address referred to above is:
National Recovery Program Bureau: Olivia Lake / Thijn Laurensse
Walter J.A Nisbeth Road #57, Philipsburg, St. Maarten
Telephone: +1721 542-8886/7
Email: procurement@nrpbsxm.org
Website: https://nrpbsxm.org/