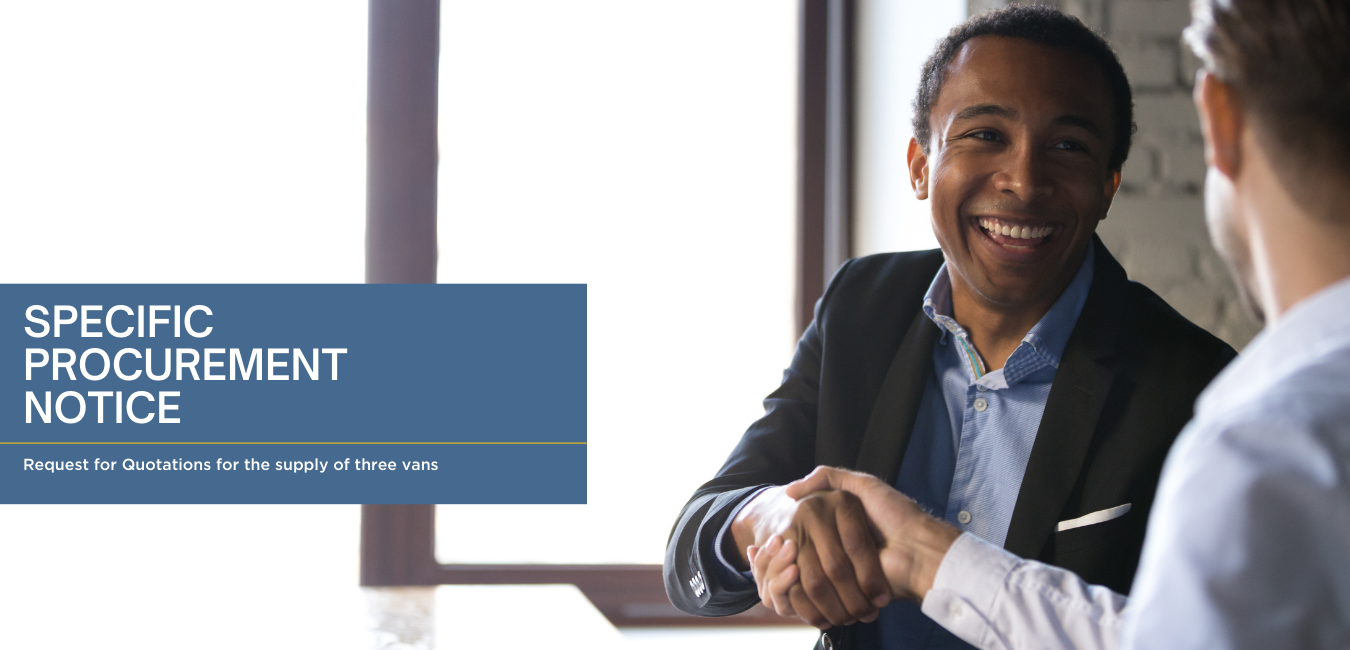 Procurement of Goods – (3) Vans
Country: Sint Maarten
Name of Project: Sint Maarten Emergency Recovery Project 1
Contract Title: Vans
Loan No./Credit No./ Grant No.: TF-A8079
RFQ Reference No.: SX-NRPB-216373-GO-RFQ
Summary of tender/assignment
1. The Government of Sint Maarten has received financing from the Government of the Netherlands in the form of a Grant to be administered by the World Bank toward the cost of the Sint Maarten Emergency Recovery Project 1. It intends to apply part of the proceeds of the Grant toward payments under the contract SX-NRPB-216373-GO-RFQ for 3 (three) Vans.
2. The Sint Maarten National Recovery Program Bureau (NRPB), as the implementing agency for the Project, now invites Quotations from eligible Suppliers for the supply of 3 (three) Vans.
3. Bidders must quote for all the items under this Invitation.
4. Bidding will be conducted through advertisement of Request for Quotations (RFQ) as specified in the World Bank's "Procurement Regulations for IPF Borrowers" November 2020 ("Procurement Regulations") and is open to all eligible Bidders as defined in the Procurement Regulations.
5. The RFQ in English may be obtained at no charge by interested Bidders upon registration on the NRPB dedicated website https://nrpbsxm.org/tenders/ where this Specific Procurement Notice (SPN) is published; assistance may be requested at procurement@nrpbsxm.org. The Purchaser assumes no responsibility for RFQ documents not received through the indicated application.
Interested eligible bidders may register to view/download the bidding documents here.
6. Quotations, must be delivered electronically to procurement@nrpbsxm.org on or before May 17, 2021, at 15h00 Atlantic Standard Time [AST]. The Purchaser reserves the right to reject or accept late Quotations. Confirmation of receipt of Quotations will be provided by the Purchaser. Where forms are required to be signed, scanned copies of the signed forms in pdf format should be attached to the email.
7. Your Quotation in English language should be accompanied by adequate technical documentation and catalogue(s) or pertinent information for each quoted item.
8. All Quotations must be accompanied by a Bid-Securing Declaration in the form provided in the RFQ.
9. Within five (5) working days of accessing the RFQ documents please advise, via email to procurement@nrpbsxm.org citing the contract number and title to confirm:
• if you intend to submit a quote, or
• that you will not submit a quote.