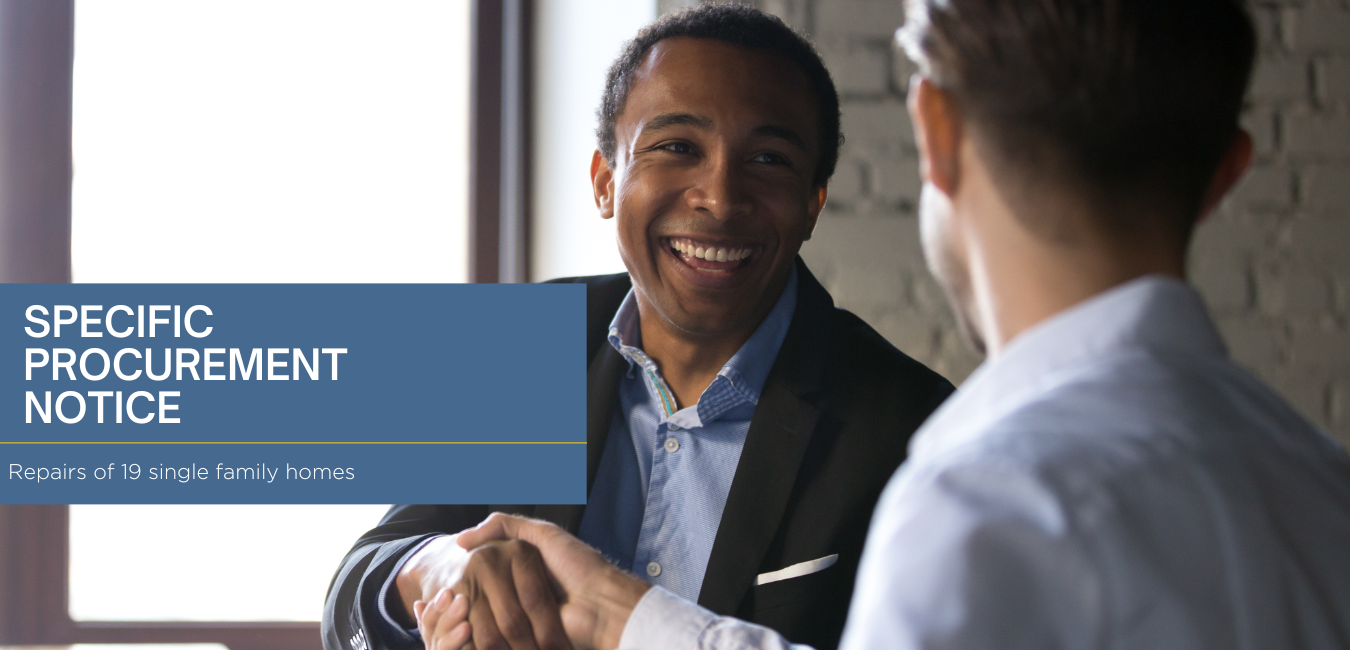 Procurement of Works – Repairs of 19 Homes
Country: Sint Maarten
Executing Agency: National Recovery Program Bureau
Name of Project: Emergency Recovery Project 1
Contract Title: Single Family Home Repairs Phase III
Loan No./Credit No./ Grant No.: TF-A8079
RFQ Reference No.: SX-NRPB-275606-CW-RFB
Summary of tender/assignment
The Government of Sint Maarten has received financing from the World Bank toward the cost of the Emergency Recovery Project I and intends to apply part of the proceeds toward payments under the contracts for Single Family Home Repairs Phase III. For these contracts, the Borrower shall process the payments using the Direct Payment disbursement method, as defined in the World Bank's Disbursement Guidelines for Investment Project Financing.
The National Recovery Program Bureau (NRPB) now invites sealed Bids from eligible Bidders for Procurement of Infrastructure Works for Sint Maarten Public Utilities (Bidding will be conducted through open international competitive procurement procedures using a Request for Bids (RFB) as specified in the World Bank's "Procurement Regulations for IPF Borrowers" (November 2017) ("Procurement Regulations").
The Request for Bids in English may be obtained at no charge by interested Bidders upon registration on the NRPB dedicated website https://nrpbsxm.org/tenders/ where this Specific Procurement Notice (SPN) is published; assistance may be requested at procurement@nrpbsxm.org.
Interested eligible bidders may register to view/download the bidding documents here: https://forms.office.com/Pages/ResponsePage.aspx?id=NiEIEbnYxUKO4LrO0sKj-yh7LIb-pypCvDnjKUoIbTtUOE1GV1dWQUk3U0I1RUowUjdPVkVHMVpJVS4u
This tender follows an electronic procurement procedure further elaborated in ITB 21 of the Request for Bids. Encrypted/Password Protected Bids must be sent to procurement@nrpbsxm.org at or before Wednesday, July 27, 2022, at 10:00 AM (AST). The submission deadline has been extended to Wednesday, August 10, at 10:00 AM (AST). 
Encryption Key/and or password must be sent to pool@bakertillycuracao.com, on Wednesday, August 10, 2022, between 10:01 AM and 11:00 AM (AST). Late Bids will be rejected. Bids will be opened by Video Conference in the presence of the Bidders' designated representatives on Wednesday, August 10, 2022, at 11:00 AM (AST). Confirmation of receipt and video conferencing information will be shared upon receipt of timely Bids.
Documents that must be signed by an authorized representative should include language that digital copies of these documents will be treated as if they are originals during restrictions in relation to COVID-19 measures. Original documents may be requested as part of the evaluation process and will be verified by the Employer before the signing of the contract. DocuSign may be used for the submission of legal documents (such as the Letter of Bid Securing Declaration, Authorizations, etc.) and for Contract Signing.
All Bids must be accompanied by a Bid-Securing Declaration. Documents such as Bid form, Bid securing declaration and power of attorney should include a language stating that copies of these documents will be treated as if they are originals during the COVID-19 emergency.