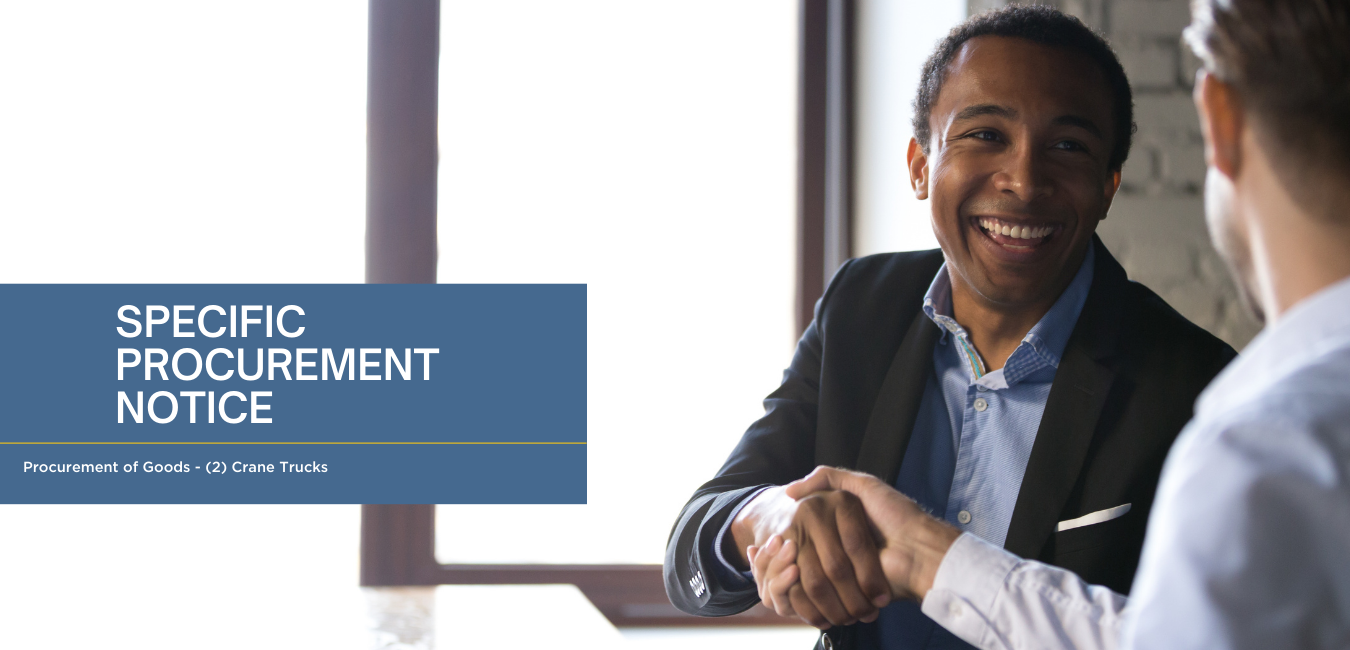 Procurement of Goods – (2) Crane Trucks
Country: Sint Maarten
Project: Emergency Recovery Project 1 (ERP-1)
Grant No.: P167347
Assignment Title: Crane Trucks
Reference No.: SX-NRPB-185662-GO-RFQ
Summary of tender/assignment
The Government of St. Maarten has received financing from the World Bank toward the cost of the ERP1 and intends to apply part of the proceeds toward payments under the contract for Crane Trucks.
The National Recovery Program Bureau (NRPB) now invites sealed/electronic bids from eligible bidders for the supply of goods for the Ministry of Public Works (VROMI), Sint Maarten, namely: 2 (two) Crane Trucks – US DOT Class 6 flatbed vehicles with behind the cab knuckle boom crane. 6X4 rive configuration for on and off- road use.  Vehicles must be rated for 8,000 lbs. payload plus crane and lift gate weight. Minimum open working deck approximately 6 meters. Vehicle to be provided with drop side body side walls and rear lift gate. The trucks are to be delivered to the below address within a maximum period of Three hundred and Sixty-five calendar, after contract signing.
Place of destination: Government Administration Building, Soualiga # 1, Pond Island, Sint Maarten.
Bidding will be conducted through the International Competitive Bidding procedures as specified in the World Bank's  Procurement Guidelines dated November 2017:  http://pubdocs.worldbank.org/en/659511533066042959/Procurement-Regulations-2017.pdf  and is open to all eligible bidders as defined in the Procurement Guidelines.
Interested eligible bidders may register to view/download the bidding documents at the NRPB website:  https://forms.office.com/Pages/ResponsePage.aspx?id=NiEIEbnYxUKO4LrO0sKj-yh7LIb-pypCvDnjKUoIbTtUMFRHUE4wRko5OFhBRkNLM1VUTkdWVEZYSy4u
When registering, interested eligible bidders should refer to both the contract number SX-NRPB-185662-GO-RFQ and contract title Crane Trucks. Electronic bids must be delivered on or before April 9th, 2021 at 15h00 AST to procurement@nrpbsxm.org. Late bids will be rejected. All bids must be accompanied by a "Bid-Securing Declaration".
Within five (5) working days of accessing the bidding documents please advise, via email to procurement@nrpbsxm.org citing the contract number and title to confirm:  
if you intend to submit a bid, or  
that you will not submit a bid.